Provencal villages of character

Walk through the Provençal villages of character and their market with flavours and scents of escape.
Lurs : At 20 km from the camping in provence and at 612 m of altitude, this small perched village will allow you to enjoy a exceptional panorama dominating the Durance Valley. Take the upland path joining the Prieuré de Ganagobie (Benedictine abbey founded in the 10th century, still occupied today by about twenty monks who make a whole range of cosmetics and balms based on essential oils). You will discover there magnificent low reliefs as well as mosaics of the XIIth century perfectly restored.
Dauphin : Located at 1 km, walk from the campsite to discover this small village perched at 445 m altitude with its narrowruels and its old center perched. At its summit you will discover its church with a very ancient baroque organ. You can also discover there a very nice donjon, vestige of the castle of the Counts of Provence, where there is a balustrade dating from the 18th century and a very nice statue of the virgin.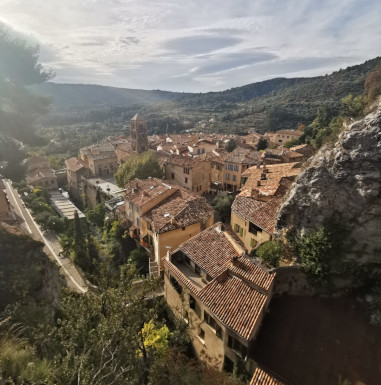 Mane : At 3 km from the campsite, it is a perched village typically Provencal which culminates at 500 m altitude. You will discover its citadelle, the only complete fortification of Haute-Provence, defended by a double helical enclosure. Take the opportunity to visit the priory Notre-Dame de Salagon of the 12th century, classified historic monument and nowadays transformed into a museum with a very nice medieval garden. Famous for its local products, you will discover its artisanal area and its local producers (olive oil, essential oil, organic food products…), without forgetting the factory store of the house "Colline de Provence" where lavender, thyme and savory are in full bloom.
Banon : At 30 km from the campsite, this old perched village, leaning against the Albion plateau, is now down in the plain. It is distinguished by the very famous librairie Le Bleuet, the largest independent library in France with more than 100 000 titles on the shelves. Take advantage of your visit to taste its famous goat's cheese wrapped in chestnut leaves and tied with a raffia string. In 2015, the Banon is the only cheese with a protected designation of origin in the Provence-Alpes-Côte d'Azur region and is the smallest AOC production in France.
Visit Manosque, Forcalquier and Les Gorges du Verdon